South Milton Sands
South Milton Sands is in an Area of Outstanding Natural Beauty. The wetlands behind the beach have been designated as an area of Special Scientific Interest, with rare wildlife and migrating birds. The beach has won an award from the Marine Conservation Society in recognition of the clean waters and protected natural habitats. Seals and dolphins are fairly common in the sea here, and there are lots of shallow rock pools to explore. The beach has a National Trust car park, toilets, a cafe, and is dog-friendly year round.
The sheltered bay is perfect for kayaks and stand up paddleboards. For six hours each day when the tide is low the rocks form a safe flat-water 'lagoon' area which is ideal for beginners to gain confidence in. The Thurlestone Rock has an arch that is fun to paddle through, and there are nearby caves, shipwrecks, reefs and smaller beaches to explore from the water.
Surfin' Sam Watersports is located on the beach, with kayaks and paddleboards for all the family. Wetsuits are available in all sizes from XXS child up to XXL adult. Buoyancy aids, leashes, basic instruction and safety briefings are included with rentals.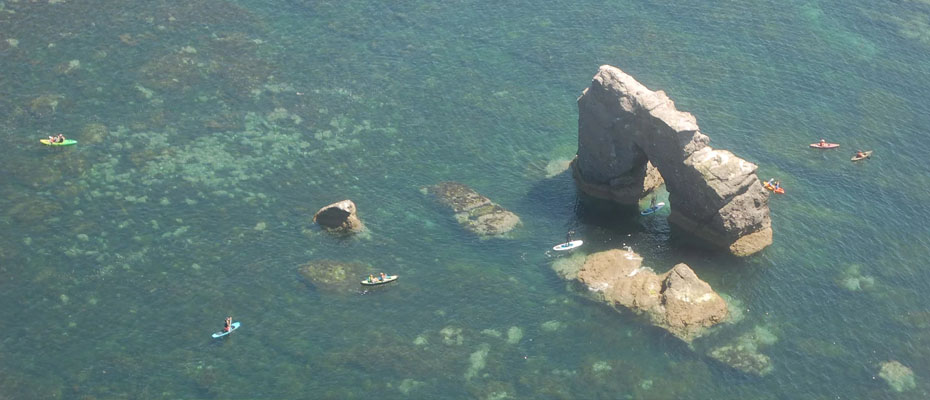 A Brief History
In 1983 A Level student Christine Amos took a summer job washing up in a guest house that offered specialist windsurfing holidays. Each day boards and sails were towed around the corner to South Milton Sands for the guests to use. Lessons also became available to the public. This was the beginning of Surfin' Sam, and for Christine the beginning of a lifelong passion for windsurfing, leading to her career as a professional national and international competitor. In 1988 the guesthouse was sold, and Christine bought the windsurfing school. She is now in her fourth decade of running Surfin' Sam Watersports, with SUP boards and kayaks currently being the most popular rentals. Christine (now Anderson) also became involved in SUP racing. For three years she held the title of Women's National 14" SUP Champion. She is still passionate about all watersports powered by paddle, wind or waves, and has plenty of tips to share with her customers!
Opening Times
Surfin' Sam Watersports is open between 10am and 6pm every day during Whitsun Half Term, and throughout July and August. There is no need to pre-book during this time, unless you are a large group. We have plenty of equipment so you can just turn up and rent. In June, September and October we may not be open every day, so please contact Surfin' Sam Watersports to check opening times.
You will find updates on the Surfin' Sam Watersports Facebook page.
Our location on the beach using what3words is:
///clear.social.towel